Create Your Classified Ad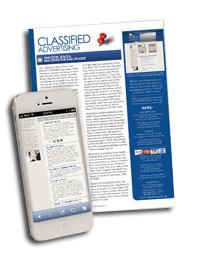 Classified advertisements may be placed in print only, online only, or both! Inscriptions closing date for classified advertisements is one month prior to publication (for example, January issue closes December 1). The Arizona Dental Assocation (AzDA) does not invoice for classified advertisements. Ads will be published in first available issue of Inscriptions, and cancellations cannot be guaranteed due to printing schedules. All copy is subject to review and approval by AzDA.


Advertiser is responsible for canceling and renewing ads. All ads will be reviewed before approval. Ads submitted for our print publication will appear in the following month's issue. Ad enhancements are only available on ads shown online and the costs are associated as such. Print ads show as text only.

DISCLAIMER: Classified advertisements may be edited for length and/or clarity. AzDA does not assume liability for contents of advertisements, nor do advertisements constitute endorsement of products or services. AzDA reserves the right to refuse or cancel any advertisement at any time.
PRICE PER MONTH - AzDA & Allied Members
First 30 words $40 (online) $60 (print) $80 (both print and online), additional words $0.45 per word
PRICE PER MONTH - Non-Members
First 30 words $80 (online) $120 (print) $160 (both print and online), additional words .90 per word